Our first life-size doll, Aurora, has a perfect female figure and remarkable body curves. Coupled with the high-quality metal skeleton design, she can be adapted to any position you crave for. After you dress her up in the clothes you like, she becomes so attractive that you feel as if you are having a perfect time with a real woman.
Size: 830*380*240MM
Vagina: 15.5CM
Anal canal: 15.5CM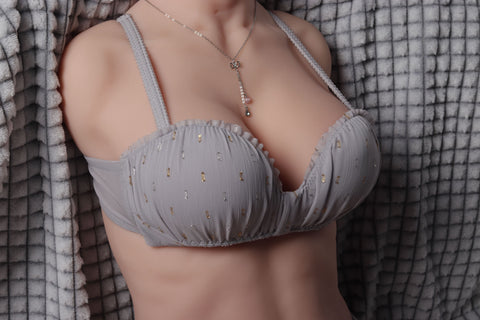 Sexy Curvy Body
Aurora is a sports girl who has the devil's build shape. She is slim and curvy. Plus, thanks to her fitness efforts, her breasts and hips are a little firm, feeling like a girl who is really fit.
Flexible Stable Skeleton
Even though Aurora has a slender frame, thanks to her flexible and stable frame, you can switch positions whenever you want, such as doggy, missionary, spooning, and so on.
Dress Up Fun
Dressing Aurora up can really meet your sex fantasy. And size M underwear or tight lingerie is recommended. You can feel blissful to just cuddle up and sleep with her.
Keeping your sex doll clean and well maintained is key to preserving the longevity of your new love doll. To ensure the proper hygiene and longevity of your new doll, please use the following recommendations as a guideline.
Product Cleaning
1. Install the portable sex doll washer.
2. Insert the tip with sprinkling holes into the tunnel.
3. Squeeze the bulb to let the warm water into the tunnel.
4. Shaking or squeezing out the water inside the doll.
5. Gently insert the drying stick with the rounded end.
6. Use a Soft Cloth to gently pat down the doll's skin.
Product Maintenance
Avoid using any old cleaning agent.
Keep away from sharp objects.
Dry with care.
Keep in a cool dark place.
Stay in a straight lying position.
Apply some renewal powder on the skin.
Loved By Customers
We are dedicated to using high-quality TPE material, providing excellent customer service, and our sex dolls have won the favor of many customers. This further strengthens our determination to enhance product quality continuously. Now we post some representative customer comments so as to give you some suggestions before buying your loved dolls.