Want squeezable, bootylicious love toy - Portable sex doll R3 Gold Big Butt Male Masturbation Toy
A portable sex doll is a male masturbation toy. R3 Gold Big butt love doll is very squeezable just the way you love it. The big butt jiggles and jiggles a lot. A portable sex doll has the most bodacious booty right for your masturbation moments. The cute sexy butts of the R3 Gold Big butt love doll will add probably a lot of fun to your sex life.
At first glance, you will love to just slap the big butt portable sex doll!
R3 Gold Big butt love doll can be a new addition to your most lovely moments. You will fall in love with these sexy butts. Male Masturbation toy looks more realistic than the one prior. portable sex doll has perfect spankable butts for some spankable fun.
"When done right, anal play can be very pleasurable and a really fun new experience," Sunny Rodgers, certified clinical sexologist and sexual health educator, tells Bustle. "First, always purchase an anal product that has some type of a flange on it. Because of the incredible suction, flanges help ensure that your toy isn't drawn up your bum."
Get Squeezable fun with R3 Gold Big butt love doll!
Functions
Portable sex doll beauty has bodacious, squeezable let you play with this booty smacking good time. Male Masturbation toy has a perfect angle of doggy style which is especially for those who like big butt so portable sex doll beauty is perfect for you.
The R3 Gold Big butt love doll has very realistic Goosebumps in textures.
R3 Gold Big butt love doll has a metal skeleton that keeps the sexy doll in form.
A portable sex doll is solid so no matter any position you try with it the sexy booty is always ready to have fun.
Male Masturbation toy has two sexy tunnels. Both tunnels are very realistic.
A portable sex doll has an anal tunnel and a vaginal tunnel for your sexual enjoyment.
A portable sex doll has both detailed erogenous parts on that you can see little tiny goosebumps.
The more you spread the erogenous parts the more realistic feel you will discover.
The anal tunnel is more ribbed and got extra sensations; you will love the pleasure that comes with that.
A portable sex doll has a vaginal tunnel and right there you can see the outer lips, they are textured and so realistic.
You will love the coloration that shows and the differentiation between the outer lips and the inner lips of the R3 Gold Big butt love doll
Male masturbation toy has jiggles in all the right places.
There's a lot in R3 Gold Big butt love doll to love!
Benefits of using Portable sex doll
Due to the studies, it found that butt has taken a very good place in sex toy ad ranking in topper.
Jiggle and wiggle with big butts!
A male masturbation toy is very pleasurable to get you comfortable with stimulating your anus.
You can experience different sensations with R3 Gold Big butt love doll to love!
You can experience amazing anal play that will lead you to an orgasm.
Portable sex dolls are super inclusive for sensations, using tongue and finger that gives ease to your inhibition and allows you to focus on sensations.
A

portable sex doll

will give you great vaginal pleasure so you will feel very relaxed and joyful moments.
The big butts will give fantastic pleasure to your penis.
R3 Gold Big butt love doll to love helps you to experience incredible ways to the new dimensions of pleasure.
Male Masturbation toy is amazing for solo play to explore and also you can use it with your partner, so will have dual fun.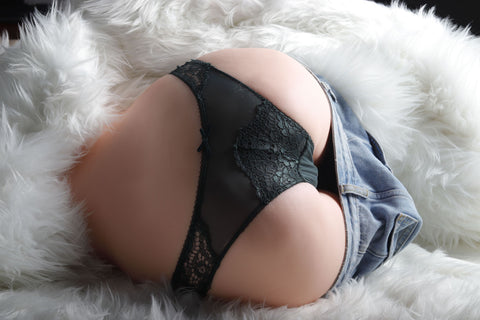 Why you should choose a portable sex doll?
A portable sex doll has goosebump textures. It is portable so you can take it with you to any place you want. You can trust the quality. The Discreet packaging, shipping, and very good price will amaze you.
Good News! You will get free shipping over the order of 39$.
How to use a portable sex doll?
You can do so much fun with R3 Gold Big butt love doll. You can enjoy many positions with R3 Gold Big butt love doll. Most males like to kiss and such the butts, so you can suck more also kiss more to this sexy booty. A portable sex doll is perfect for a doggy-style position. You can move R3 Gold Big butt love doll around. You will have a good time playing with this portable sex doll. You just slap the Male masturbation toy and enjoy the bouncy fun.
The realistic aspect of all of the portable sex doll parts is amazing that makes you like you have a real-life experience. R3 Gold Big butt love doll to love is exactly what you will love. If you want to bury your face in her big butts so you will love it more.
You can enjoy rimming and anal fingering with a portable sex doll and also can be used for anal warm-up.
You can use the Male Masturbation toy solo or with your partner, inserting in the big butt, and with your partner can because dual sexy fun.
R3 Gold Big butt love doll to love is erotic enough to explore the butt play more, with finger and tongue.
How to keep Male Masturbation toys clean and lasting for a long time?
The portable sex toy is very easy to clean, proper cleaning and storing can make your sex toy long-lasting. You can flush the toy with water, or wipe the outside of the toy with a sodden paper towel or washcloth to eliminate any surface flotsam and jetsam. Then, at that point apply fluid cleanser straightforwardly to the toy and scour, in case you're washing a Male masturbation toy in the sink, or wipe it again with a clammy material and some fluid cleanser.
Feedback from the user,
David D.
'Exactly as advertised. Put it in her butt and go about your business. Works great and you can feel it with your Johnson inside her VJJ.'
Good News!
Participate in promotion activity on our home page and you can have an exclusive 80% discount on all bills by mentioning 'love' as the product code.
R3 Gold Big Butt Portable Sex Doll is for those travelers that would like to travel light.
If you do not want a full-size sex doll due to storage issues then these Gold Big Butt will do the perfect job for you.
41cm (1.3ft) R3 Gold Big Butt Portable Sex Doll for Easy storage and mobility
Made of high-quality TPE.
Vaginal & Anal capabilities
41cm (1.3ft) R3 Gold Big Butt Portable Sex Doll
Height: 39cm | 15 inch
Width: 41cm | 16 inch
Vaginal Depth: 16cm | 6.2 inch
Weight: 11kg | 24 lbs.